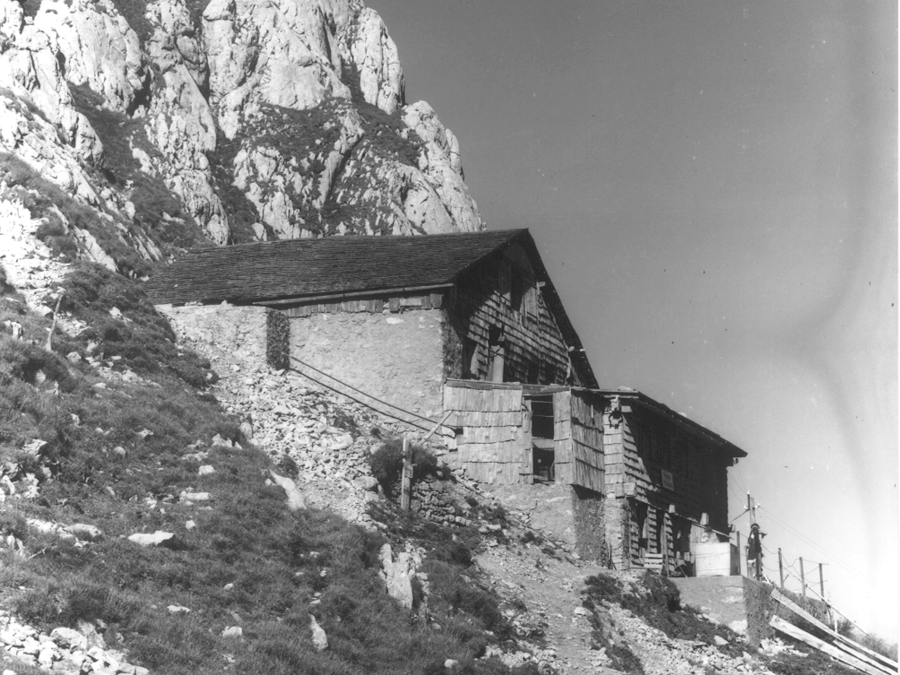 1953 - 1963
Purchase of Berghaus Stockhorn for CHF 42000.- by Max Born.
Granting of concession for railroad construction to Max Born.
Total expenses of Max Born approx. CHF 280000.-.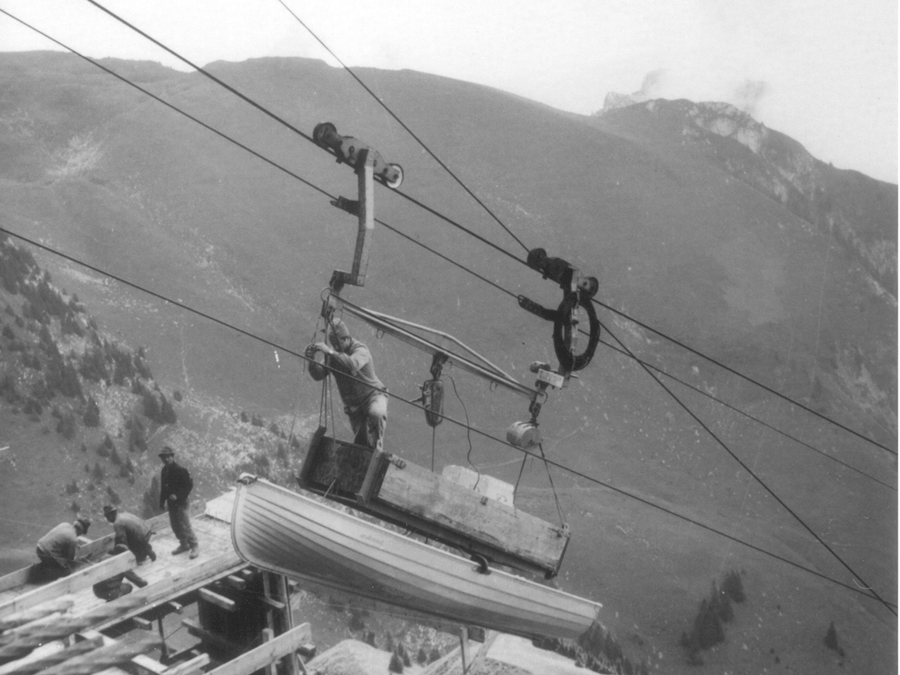 1963
Constitutive AGM: Foundation of the company with a share capital of CHF 3.1 million share capital (AK). Driving force: Max Born.
Start of construction; planning foresees construction costs ofCHF 5.2 million incl. CHF 0.8 million for Berghaus.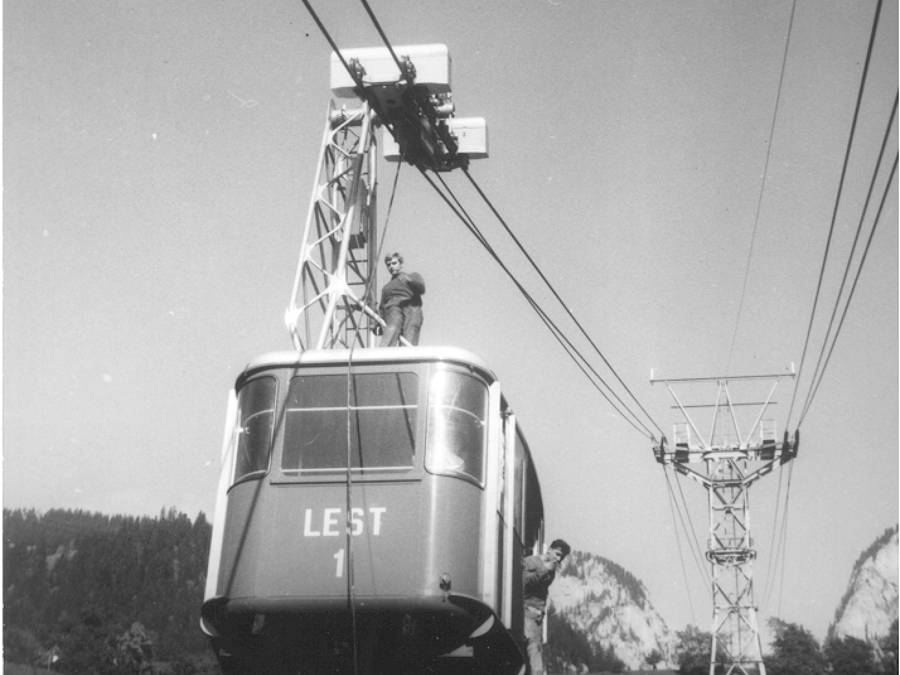 1964 - 1967
Immediate halt to construction by federal decree. Due to inflation, total construction costs of
CHF 8 million (without Berghaus) are to be expected.
1st ordinary general meeting. Chairman of the Board: Werner Stofer, veterinarian, Erlenbach; Managing Director: Max Born;
Board members: Max Kawitzke, Bonn; Paul Kolb, Muri; Karl Minnig, Erlenbach; Otto Rohrer, Bern;
Albert Schönholzer, Thun; Paul Zuberbühler, Director Von Roll, Berne.
AK increase of CHF 1.4-1.9 million to CHF 4.5-5.0 million.
Extraordinary General Meeting. Resolution: further shares issued - only CHF 200000.- subscribed.
AK = CHF 3.3 million / 6600 bearer shares at CHF 500.- each.
Chairman of the Board: Paul Kolb, Muri.
New BoD: Arnold Zum Wald, Erlenbach.
Management: Karl Minnig, postmaster Erlenbach.
Bottom station, middle station and supports of the 1st section are
completed; installation of the ropeway is postponed.
Loan agreement with Von Roll for deliveries already made
deliveries:
CHF 2.1 million Von Roll
CHF 2.0 million Banks
CHF 3.3 million AK
CHF 7.4 million available funds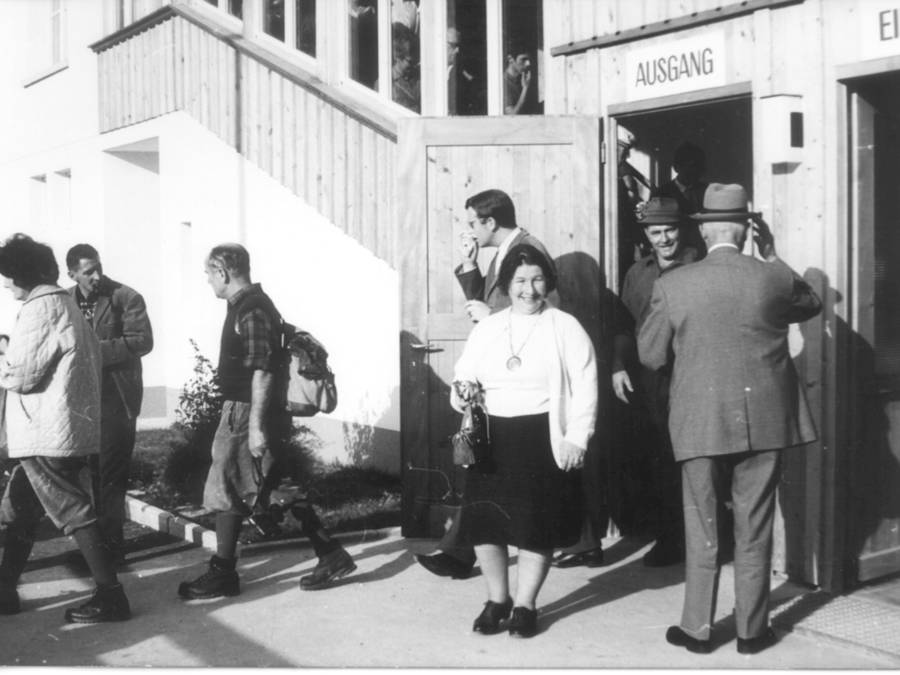 1968
Operation 1st section opened. Director Huldrich Ruede, Plant Manager Walter Baumann, Chief Assembler Von Roll.
Credit approval for ski lift construction CHF 0.5 mio. by the two state banks, BEKB and Hypothekarkasse Kanton Bern.
durch die beiden Staatsbanken,
BEKB und Hypothekarkasse Kanton Bern.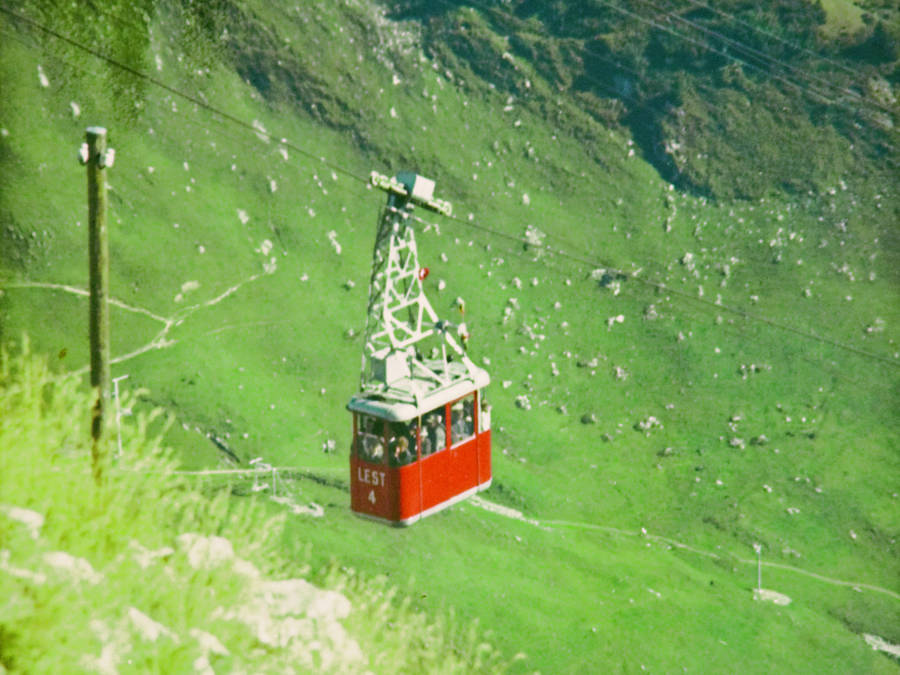 1969
Operation 2nd section opened. No accommodation facilities on the Stockhorn, only old mountain house with approx. 20 places.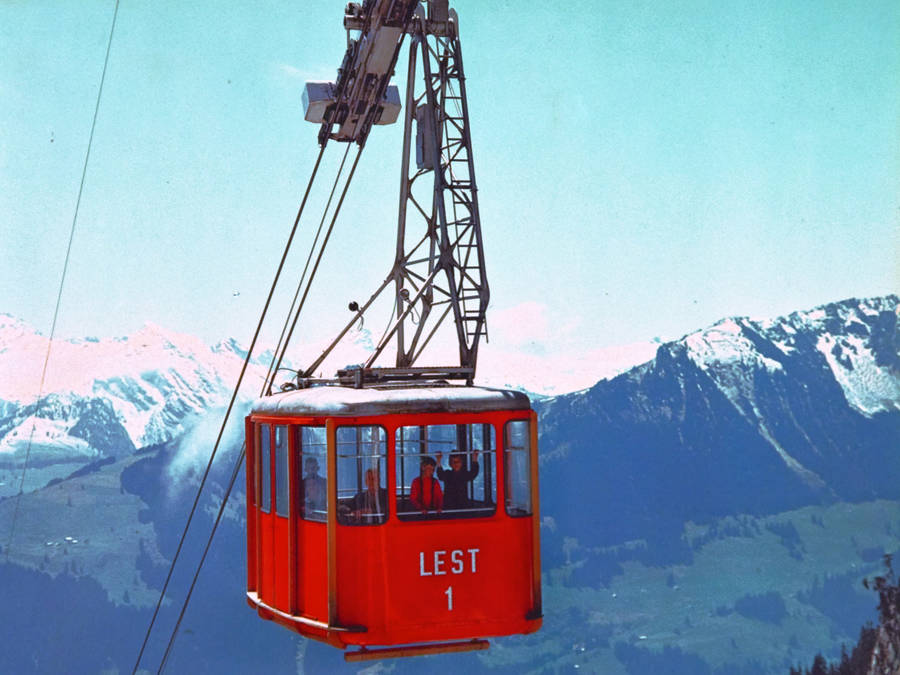 1970 - 1972
Interest on loans cannot be paid.
CHF 1.448 million liability balance in balance sheet.
Over-indebtedness is established. Application to the judge for a moratorium is granted (October 1971 to January 1972).
Sale by private treaty in press. Railroad facilities, 2 restaurants and ski lift incl. snow groomer. BEKB is awarded the contract for CHF 2.5 million.
Foundation of the new Stockhornbahn AG: initial share capital CHF 0.65 million, of which CHF 0.5 million by BEKB.
Other shareholders: Hypothekarkasse Kt. Bern, municipality of Erlenbach, BLS, Popularis, SMUV, SEV, Coop Bern, Coop Thun. Chairman: Dr. Willy Bangerter, BEKB Thun; Operations Director: Werner Riesen, Popularis Bern. Advertising by BLS.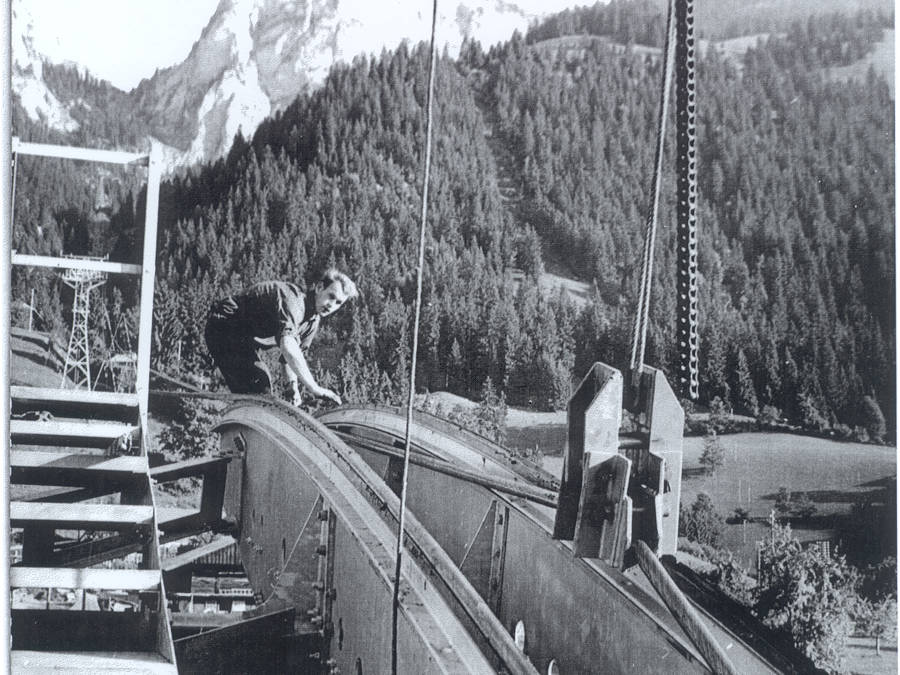 1973 - 1979
New cabins for 2nd section with 30 seats.
Capacity up to Stockhorn 360 pers./h. Increase in the general budget by CHF 380000 to CHF 1.2 million for the construction of the Stockhorn restaurant.
Stockhorn is supplied with electricity for the first time thanks to the 16 kV overhead line Chrindi - Stockhorn.
Opening of the Stockhorn Restaurant.
Opening of the panoramic hiking trail Gurnigel - Stockhorn.
Replacement of 2nd section running gear. Construction of the Chrindi workshop. Maintenance of the snow groomers is facilitated.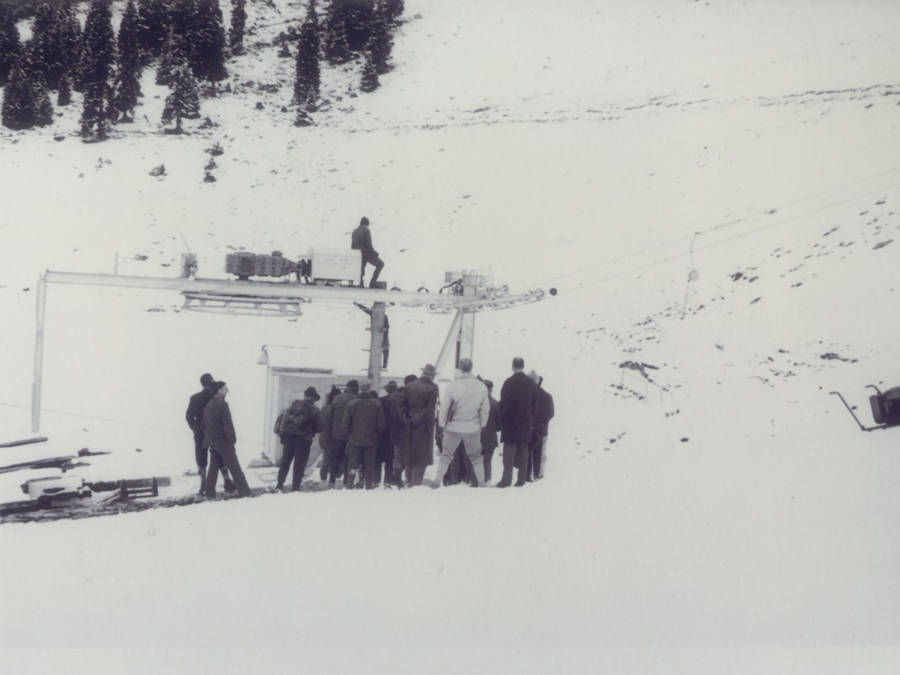 1980 - 1994
More powerful drive motor for ski lift. Less waiting time due to increase in transport capacity.
Construction of 35 m3 water reservoir Stockhorn; improved Chrindi spring line.
Boom of delta gliders; parking space bottleneck at valley station.
1982-1985 Extension of Chrindi restaurant.
1985 Opening of flower trail. Additional parking spaces thanks to the "Dreiangel" parking lot.
1987 Trial operation of cross-country skiing on Hinterstockensee. Demand very low.
1988/89 Replacement of 1st and 2nd section controls.
1989 Opening of the Hinterstockensee circular trail.
1993 Othmar Tschabold, Erlenbach, becomes chairman of the board.
1994 Financial restructuring necessary, interest for mortgage debt not payable. BEKB waives CHF 2.5 million mortgage claim.
Insufficient funds for depreciation. Provisions for major repairs / investments of CHF 1.3 million. The entire share capital goes to the community of Erlenbach for re-subscription as a public company; 1200 shares at CHF 1,000 each. Opening of children's playground at the Chrindi mid-station. Cross-subsidization of ski lift through summer operation.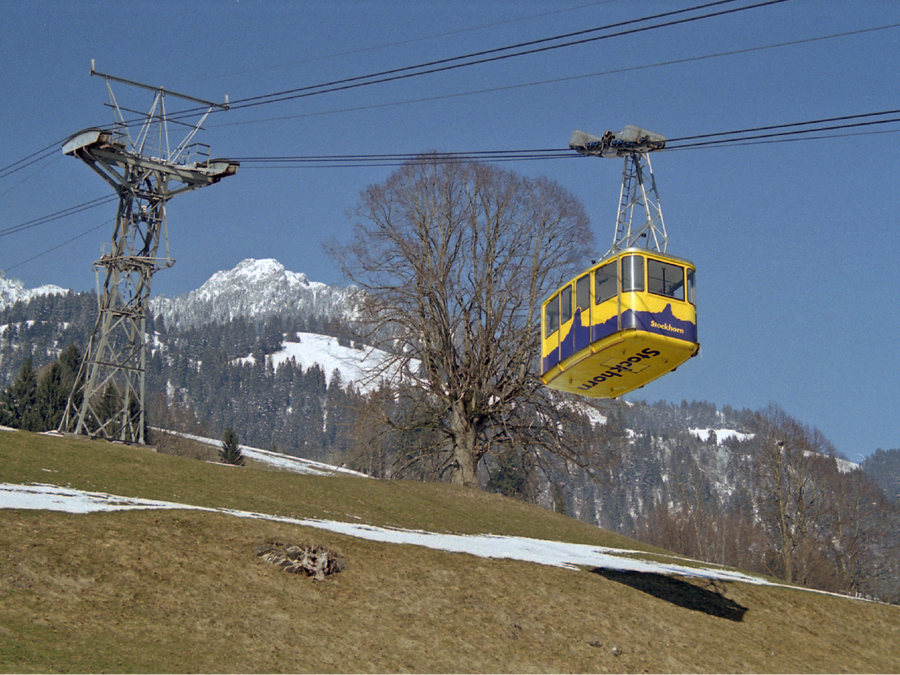 1995 - 2004
Ordinary AGM takes place as a municipal council meeting.
1997 Commissioning of the Hinterstocken practice ski lift and expansion of the connection between the ski area and Chrindi.
1999 First website goes online.
2001 Opening of the wheelchair-accessible summit gallery with "Stockhorn eyes".
Award "Goldener Wanderwegweiser" for 70 km of well-maintained hiking trails.
2002 Retirement of operations manager Walter Baumann. Fritz Jost becomes managing director.
2003 Drive 2nd section can be taken over by the Piz Nair-Bahn; investment CHF 650000. First joint spring campaign with Niesen and Niederhorn.
From 2004 also with boat trips on Lakes Thun and Brienz.
Opening of the adventure trail "Habitats on the Stockhorn".
2004 Extraordinary General Meeting decides to discontinue skiing on the Lasenberg. Extension and new construction of the panorama restaurant: investment of CHF 2.1 million.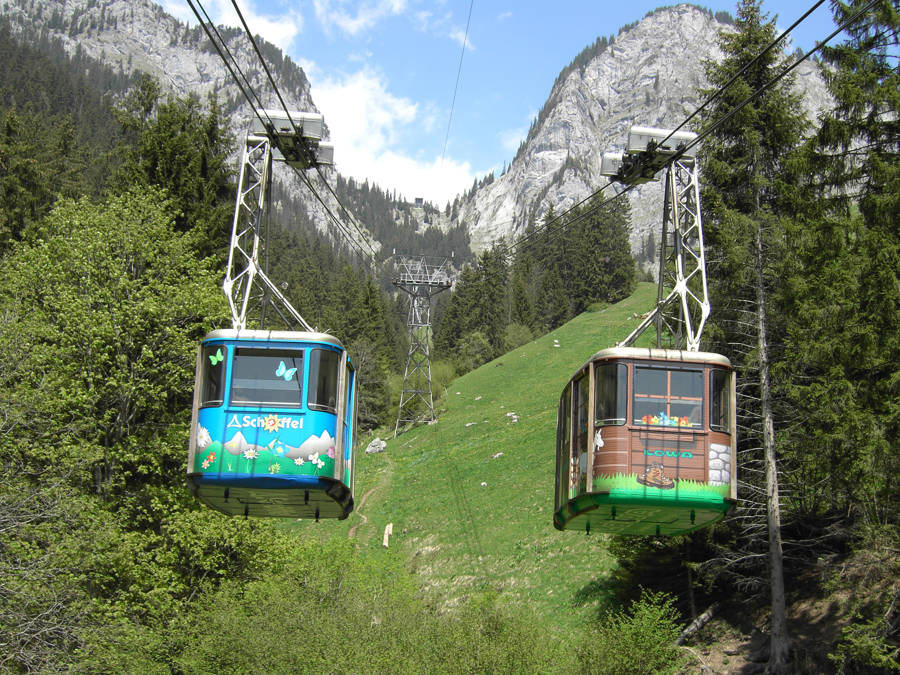 2005 - 2012
Opening of the panorama restaurant Stockhorn.
Reduced winter operation Wed-Sun introduced.
2007 Ueli von Niederhäusern, Erlenbach, becomes Chairman of the Board. For the first time more than CHF 3 million turnover for cableway and gastronomy.
2009 AK-increase in 3 steps from CHF 1.2 million to CHF 1.8 million (until 2011).
Alfred C. Schwarz becomes Managing Director.
2011 New website goes online.
2012 Souvenir store opens in the panorama restaurant.
First presence on Facebook.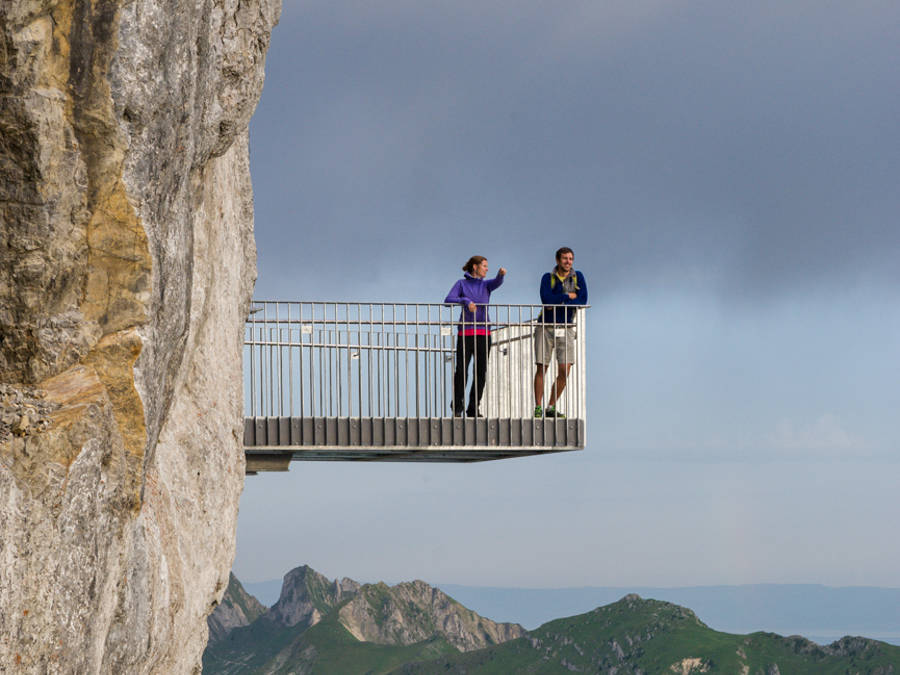 2013 & 2014
Construction and opening of the panorama viewing platform on the north face of the Stockhorn.
Renaming and christening of the Thun Arena sports and event stadium as "Stockhorn Arena".
AK increase from CHF 1.8 million to CHF 2.1 million (until 2016).
Launch of "AlpKultur® Culinary Trail" - 3-course menu with regional products in the three restaurants.
Opening of three signposted snowshoe trails.
First-time presence of Iglu-Dorf GmbH as a winter partner; among other things, overnight stay in the island igloo and fondue in the igloo.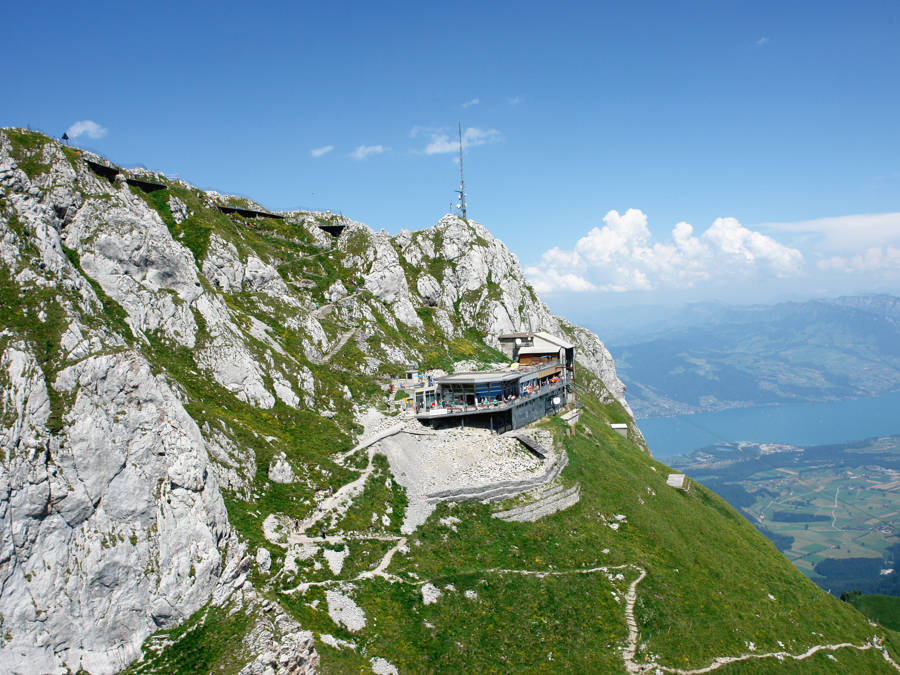 2015
Construction of a staircase as a direct connection from the Panorama Restaurant to the roof terrace.
Construction of the service lines from the Stockhorn to the Chrindi.
The septic tank below the mountain station is no longer needed.
First-time presence on Instagram.
Foundation of the "Friends of the Stockhorn" association with the purpose of providing non-material and financial support for the sustainable development of the offerings on the Stockhorn.
For the first time, more than CHF 4 million in sales for the cable car and gastronomy.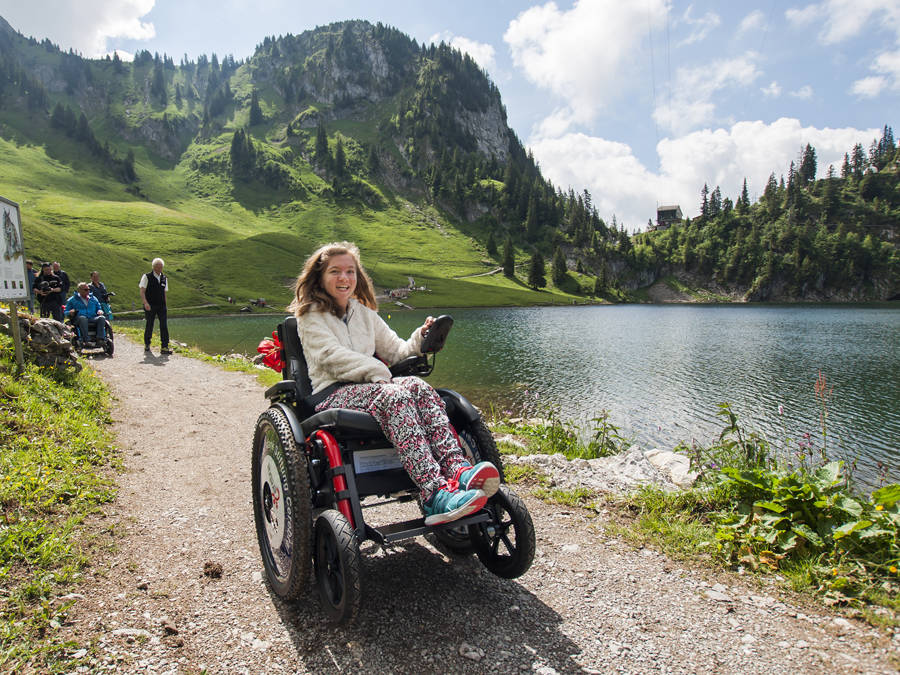 2016 & 2017
Black ice on the Hinterstockensee leads to the "Stockhorn ICE WORLD" and attracts thousands of additional guests to the Stockhorn.
Steady expansion of the evening offer proves its worth: around 80 events attract almost 4000 evening guests to the Stockhorn.
AK increase from CHF 2.1 million to CHF 2.4 million (still ongoing).
Start of the rental of four all-terrain wheelchairs at Chrindi.
All-terrain wheelchair on the "No Limits" lake circuit hiking trail.
Extension of the ticket hall in the valley station.
Replacement of the storage heating system in the panorama restaurant with an air/water heat pump.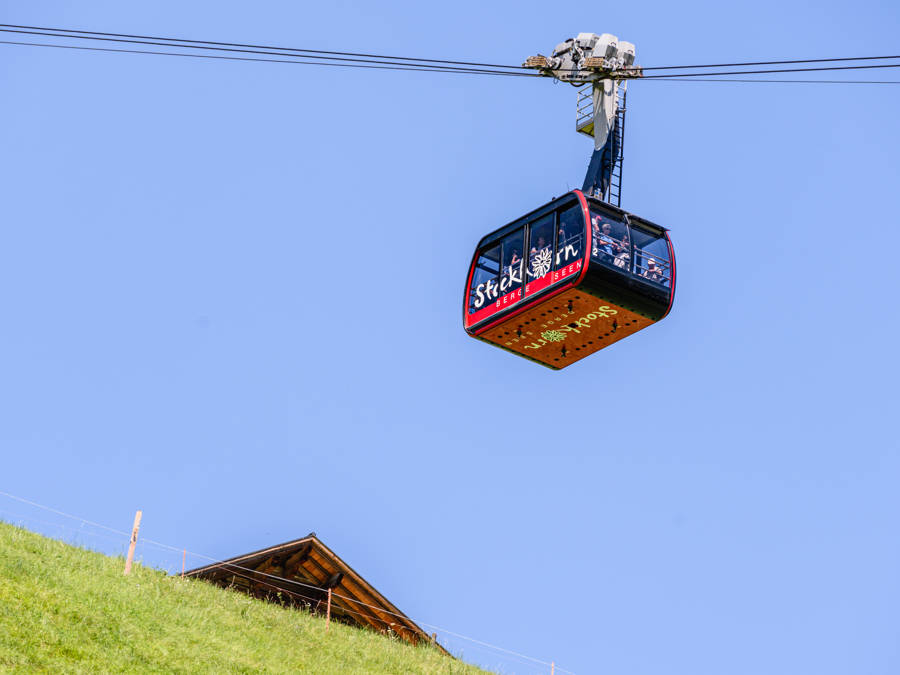 2018
After exactly 50 years, the first section of the Stockhornbahn is being completely overhauled.
New cabins and running gear, a new control system, a new drive and new station saddles result in investments of almost CHF 4 million.
The logo from 2003 undergoes a gentle redesign; all employees are newly dressed. The overall appearance is thus refreshed.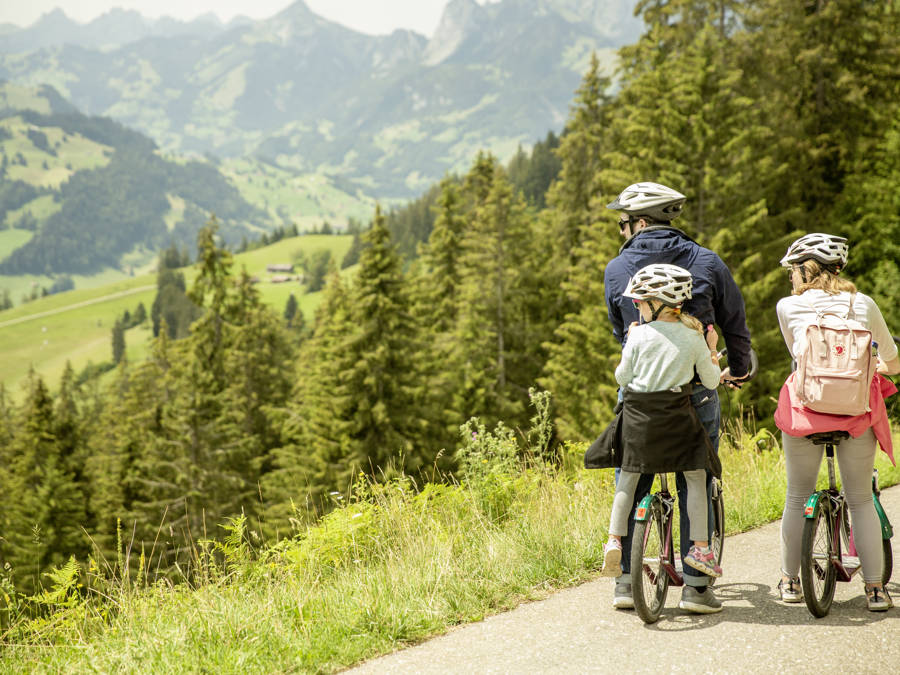 2020
The Stockhornbahn AG establishes together with Trotti-Bike.ch a combination ticket, which includes cablecar ride and rental of the scooter.
A new cooperation was created.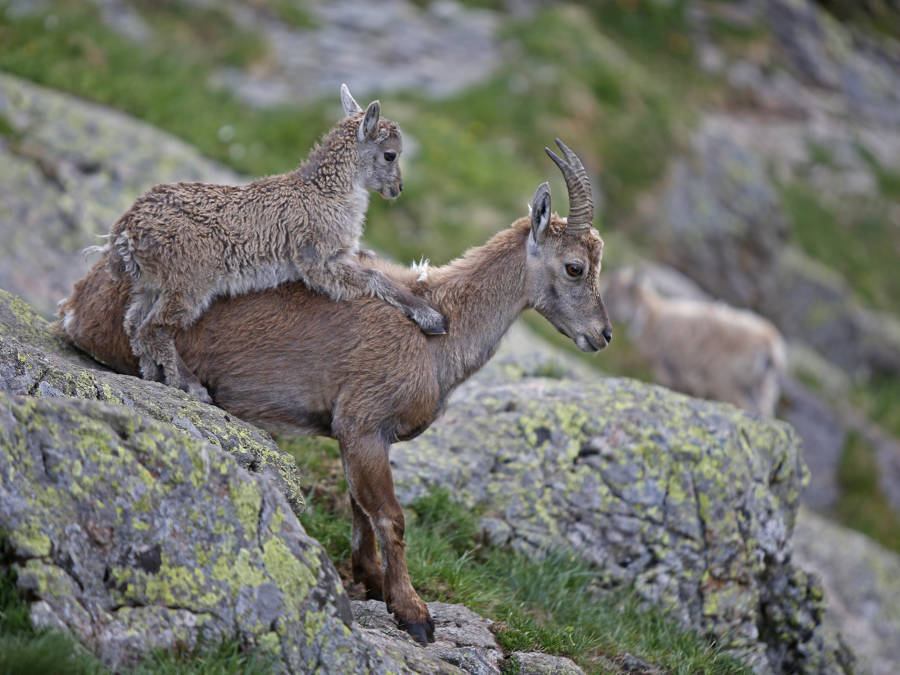 2022
An ibex colony is to be established in the Stockhorn area. Therefore, the first ibexes were released on May 2, 2022 and the starting signal for the settlement of the ibex is given.
The Stockhornbahn goes online with a new website.
The parking lot of the Stockhornbahn was renovated and equipped with a screen.
The igloo next to the Hinterstockensee is operated by the Stockhornbahn for the first time in winter 22/23.
The year 2022 was a new record year for the Stockhornbahn.