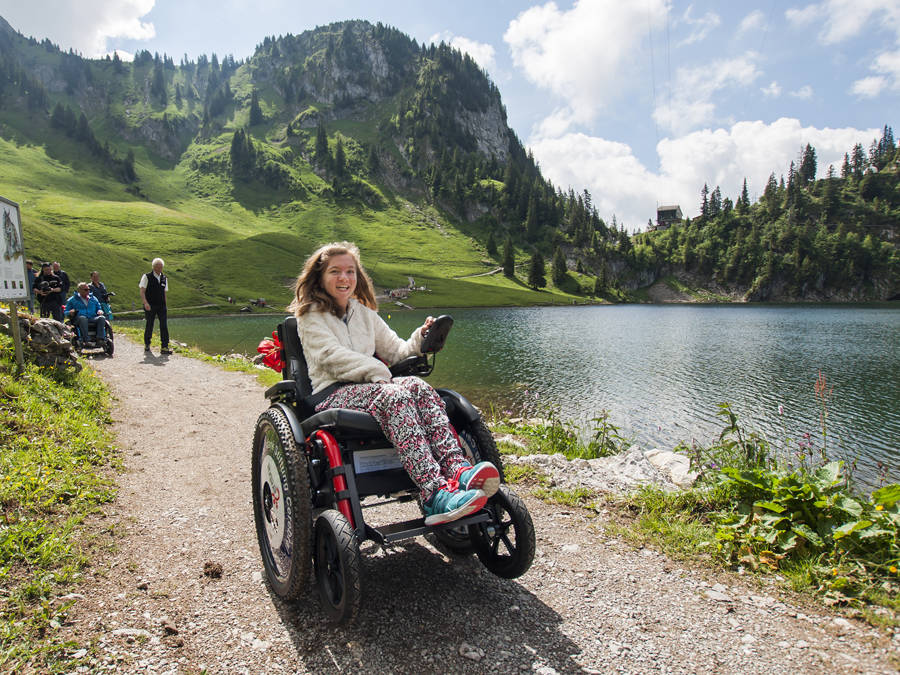 Right at the middle station Chrindi of the Stockhorn cable car starts the "See-Rundwanderweg" No Limits, which was built with the aim to provide a mountain experience for people with reduced mobility. At the same time, the all-terrain special wheelchair "Mountain Drive" was developed by JST, with the support of the Cerebral Foundation and the Stockhornbahn. An intelligent chassis with electric drive ensures that the wheelchair can be safely maneuvered off-road. Thus, the lake circuit hiking trail becomes an experience for everyone!
Important information
The path:
Wheelchairs can be used on trail no. 8, Hinterstockensee circular trail. The circular trail includes some challenging sections for wheelchairs, which means that the trail must be navigated with caution.
You will cover a height difference of +- 85 m, pass two tunnels and a bridge.
The path must be followed in a counterclockwise direction.
JST Multidrive Wheelchair:
The all-terrain wheelchairs (Multidrive) are designed for a maximum payload of 100kg and are controlled by joystick.
The wheelchairs do not have headrests and do not have a storage function.
User Requirements:
The driver or rider should be able to change wheelchairs independently or have a companion trained to do so. The staff of the Stockhornbahn is not allowed to assist with the transfer.
Experience with wheelchairs controlled by a joystick is required.
The wheelchairs are not rented to persons with perceptual or mental impairments.
Nr. 8: Chrindi-Hinterstockenalp-Chrindi (loop way Hinterstockensee)
Varied with bridge and 2 tunnels - especially suitable for families (also doable with off-road stroller).
Elevation change
+/- 85 m
Hiking time
ca. 40 minutes
Note
At the moment NO wheelchairs are rented! Thank you for your understanding.
Price
Rent all-terrain wheelchair
This could also interest you!